Answer
Typically, a multilumen catheter, 110 cm long, with extra connecting tubes for attachment to the pressure transducer (see image below)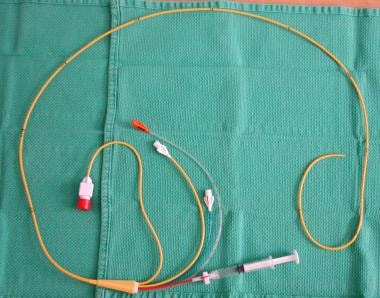 A pulmonary artery catheter is shown here.
At the tip is the PA lumen, or distal lumen. A 1.5-cc balloon is located just proximal to the tip. Approximately 4 cm proximal to the balloon is the thermistor used to measure temperature changes for calculation of CO.
Two additional lumens usually are present at 19 cm and 30 cm from the tip. Depending on the degree of right heart enlargement and the position of the catheter (ie, distance advanced into the patient), these lumina reside within the right ventricle (RV), right atrium (RA), or the superior vena cava (SVC).
Some catheters are coated with heparin to reduce thrombogenicity and have connections for temporary ventricular pacing. The former is important to remember in case the patient develops heparin-induced thrombocytopenia, because only a small amount of heparin is necessary to sustain this process.
Proper attachment of the PAC to the monitoring equipment is essential for accurate measurements.
Transmission of pressures from the body to the display system is accomplished via semirigid, noncompliant tubing filled with fluid, usually isotonic saline with a small amount of heparin. This, in turn, is connected to a fluid-filled pressure transducer.
Often, a constant infusion or "interflow" device is placed into the connecting pressure line. This device does not alter the pressure and provides a small constant infusion of fluid through the catheter to prevent backup of blood. Because the fluid is incompressible and the tubing noncompliant, this system fairly accurately transmits intracardiac pressures to the transducer, causing small amounts of movement in the transducer membrane. Deformation of this membrane generates a proportional electric current that is amplified and transmitted to the monitor.
A guide wire catheter may be useful in patients with large RVs and a lot of tricuspid regurgitation.
---
Did this answer your question?
Additional feedback? (Optional)
Thank you for your feedback!