Answer
Passage of the PAC is difficult in certain disease states. When right-sided pressures are elevated, the air-filled balloon actually may hinder proper positioning. In such cases, filling the balloon with 1 mL of sterile saline and placing the patient in a more upright position allows gravity to cause the PAC to fall into position. Once the catheter is in position, aspirate the saline and replace it with air to ensure reproducible PCWP tracings. Insertion with a noninflated balloon may also allow passage into the PA. Neither of these techniques is advocated by PAC manufacturers and the techniques have the potential for adverse events. These techniques should only be used in extenuating circumstances and should only be attempted by experienced practitioners under the guidance of fluoroscopy.
The presence of large V waves can make discriminating a PA tracing from a PCWP tracing difficult. Look for subtle signs of waveform differences, such as loss of the dicrotic notch in the PA tracing (see image below).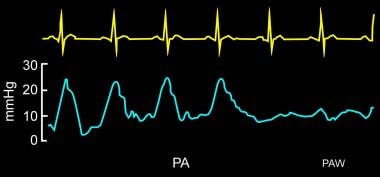 Pulmonary artery catheter being introduced from pulmonary artery in to wedge position.
Determining the oxygen saturation of a blood sample obtained from the distal lumen while the balloon is inflated also can confirm that the waveform is a true PCWP. After aspirating enough volume (5-7 mL) to clear the blood from the PA distal to the inflated balloon, the oxygen saturation should be similar to that measured by arterial blood gas or pulse oximetry, thus confirming that the catheter is in the correct position to measure PWCP.
Fluoroscopy may be required for proper placement of the PAC in difficult situations.
---
Did this answer your question?
Additional feedback? (Optional)
Thank you for your feedback!