Answer
Answer
For most electrodiagnostic consultations, the examination focuses on the neurologic system; however, in many cases, the patient may be aware only of symptoms without any existing or known diagnoses. If the history is at all suggestive of a generalized process (eg, myopathy, polyneuropathy, neuromuscular junction disorder), then a general examination may be useful in defining a particular systemic medical illness.
Initial assessment of vital signs can alert the clinician to cardiopulmonary or infectious problems and to possible contraindications to testing. Avoid tests at sites of any open wounds or infected areas, as well as needle examination where risk of compartment syndrome is high (at sites of bleeding or infection). Palpation can clarify areas of warmth, swelling, edema, tenderness, lymphadenopathy, or organomegaly.
Observation
Look for various manifestations of systemic diseases, such as the butterfly rash (see the image below) associated with polymyositis or the petechial rash seen in vasculitides. Other findings, such as loss of distal hair, trophic skin changes, nail changes or nevi, tumors, or other visible lesions, can lead to various diagnostic impressions that may help in designing an electrodiagnostic evaluation that will make it possible to obtain the most useful information needed to arrive at the appropriate diagnosis.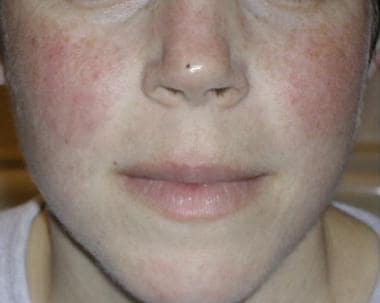 The classic malar rash, also known as a butterfly rash, with distribution over the cheeks and nasal bridge. Note that the fixed erythema, sometimes with mild induration as seen here, characteristically spares the nasolabial folds.
Another important aspect of the general examination is a specific search for any physical impediments to the acquisition of useful electrodiagnostic information. For example, peripheral edema, calloused or scarred skin, dirty areas, or areas that have been covered with lotion can decrease the ability to obtain accurate information, particularly from the sensory NCS.
---
Did this answer your question?
Additional feedback? (Optional)
Thank you for your feedback!