Answer
Answer
Polyps in Peutz-Jeghers syndrome (PJS) can reliably be differentiated from other types of polyps only by histopathology, [94] and surgical pathologists can have a critical role in recommending genetic counseling and surveillance of the patient and/or family members when the diagnosis is suspected. [95]
Smooth-muscle hyperplasia, with an elongated, arborized pattern of polyp formation towards the epithelial layer, can be seen. [15, 19, 71] This results in the formation of islands of epithelium within the underlying smooth muscle, [78, 96] which is best appreciated in Peutz-Jeghers syndrome small intestine polyps. [70] Other distinguishing morphology includes an expanded edematous lamina propria that is chronically inflamed with dilated cystic glands filled with deeply eosinophilic mucin. [97] Thus, the polyps generally originate from the small or large bowel, are often exophytic, seldom erode, have inflamed edematous and fibrotic lamina propria and dilated mucin-filled cystic glands, and show often widespread smooth muscle proliferation. [97]
It is recommended that all cervical cytology samples from patients with Peutz-Jeghers syndrome be examined with a high level of suspicion for cervical adenocarcinoma. [98] In addition, complete surgical excision following a diagnosis of endocervical glandular hyperplasia is also recommended. [98]
See the image below.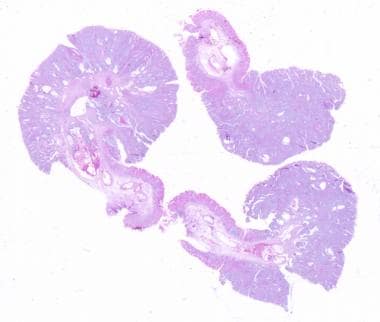 Intestinal polypoid adenomas. Tubular adenoma, low-power view. Courtesy of George H Warren, MD†.
---
Did this answer your question?
Additional feedback? (Optional)
Thank you for your feedback!