Answer
Answer
Mucocutaneous pigmentation and melanin spots (1-5–mm macules) are typical of patients with Peutz-Jeghers syndrome (PJS), and they are present in more than 95% of cases. They appear as small, flat, brown or dark-blue spots similar to freckles, most commonly around the mouth crossing the vermilion border (94%), nostrils, perianal area, digits, and the dorsal and volar aspects of hands and feet (62-74%). They may fade after puberty but tend to persist in the buccal mucosa. [2, 15, 13, 59, 12, 72, 73]
Localization in the oral mucosa is typical of patients with Peutz-Jeghers syndrome and does not happen with other types of dermatologic pigmented lesions, such as common lentigo (see image below). Freckles do not localize in the buccal mucosa. An important differential diagnosis for freckling and pigmented macules involving the glans penis is PTEN-hamartoma syndrome, which is a distinct, rare, hereditary intestinal polyposis and cancer-predisposing condition.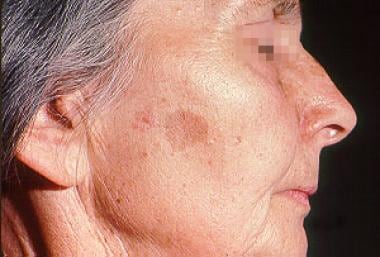 This woman has solar lentigo.
A rectal mass (rectal polyp) may be found during a rectal examination. In rare cases (7%), the polyp can prolapse outside the anus if it reaches a significant size.
Gynecomastia and growth acceleration (due to Sertoli cell tumor), as well as testicular mass, may also be noted in Peutz-Jeghers syndrome. [70, 80, 81]
---
Did this answer your question?
Additional feedback? (Optional)
Thank you for your feedback!