Answer
Answer
The gastrointestinal polyps found in Peutz-Jeghers syndrome are typical hamartomas. Their histology is characterized by extensive smooth muscle arborization throughout the polyp. [2, 15] This may give the lesion the appearance of pseudoinvasion, because some of the epithelial cells, usually from benign glands, are surrounded by the smooth muscle (the lack of dysplasia in the polyps help to differentiate pseudoinvasion from malignancy). [2, 15]
Cancer develops in the gastrointestinal tract of patients with Peutz-Jeghers syndrome with a higher frequency than it does in the general population. [1, 10] However, this syndrome is also associated with increased breast, gynecologic, testicular, pancreatic, and thyroid papillary malignancy. [1, 2] About 48% of patients with Peutz-Jeghers syndrome develop and die from cancer by age 57 years. Others may have a normal life span. The mean age at first diagnosis of cancer is 42.9 years, ±10.2 years. [16, 17, 18]
During the first 3 decades of life, anemia, rectal bleeding, abdominal pain, obstruction, and/or intussusception are common complications in patients with Peutz-Jeghers syndrome. [19, 20] Nearly 50% of the patients experience an intussusception during their lifetime, most commonly in the small intestine. [21]
See the image below.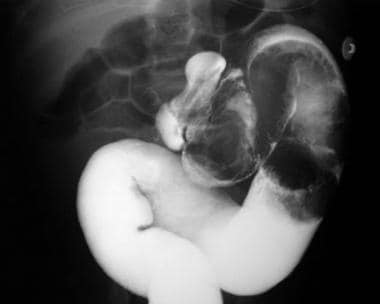 This barium enema radiograph reveals intussusception in the descending colon.
Peutz-Jeghers syndrome should be diagnosed in patients as early as possible, and genetic counseling should also be provided. [2] Many of the gastrointestinal lesions start developing early in life, even if the syndrome is not clinically apparent until the second and third decades of life. Proper screening for intestinal cancers and extraintestinal cancers should be implemented. [2, 116] (See the Approach Considerations section.)
---
Did this answer your question?
Additional feedback? (Optional)
Thank you for your feedback!