Answer
Answer
Reconstruction with autogenous tissue also requires careful preoperative planning. [12] Future refinements can be avoided by paying attention to the details of flap orientation. If the free TRAM flap used for breast reconstruction is based on the ipsilateral rectus, it provides more vertical fullness. When the flap is based on the contralateral rectus, it lies in a more transverse orientation; consider this orientation for patients with wider breasts that extend out toward the axilla with minimal superior fullness.
With pedicled TRAM flaps, management of the subcostal innervation to the muscle is controversial. [13] Some believe the inevitable atrophy of the rectus muscle can be diminished if the nerve is preserved. Conversely, division of the nerve and of the tendon of the rectus muscle superior to the takeoff of the superior epigastric vessels gives the flap more freedom to rotate and helps eliminate the unsightly bulge in the xiphoid region.
When transferring a pedicled TRAM flap, preferably base the flap contralateral to the reconstructed breast and create the subcutaneous tunnel slightly on the opposite side of the sternum in relation to the reconstructed breast. The deep inferior epigastric perforator (DIEP) flap can be considered a refinement in the abdominal wall closure. Because no fascia is harvested, it is believed that function returns more quickly, hernias and bulges are less frequent, and postoperative pain is less severe. Use of the internal mammary vessels for free-tissue transfer can be considered a refinement in flap orientation. This should help eliminate the problematic lateral drift often observed in free flaps anastomosed to the thoracodorsal vessels. These vessels may be more reliable in delayed reconstructions. See the images below.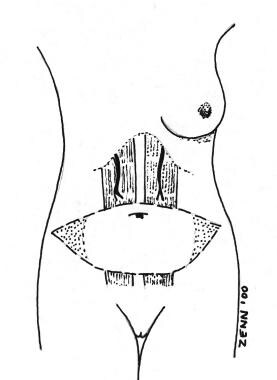 Blood supply to bipedicle transverse rectus abdominis myocutaneous (TRAM) flap. Note the bilateral superior epigastric blood supply and the shaded area of the TRAM flap to be discarded.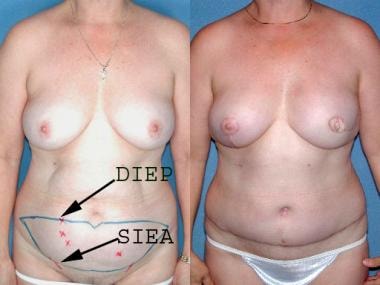 Presurgical markings with location of deep inferior epigastric perforator (DIEP) and superficial inferior epigastric artery (SIEA) signal points depicted (as determined by Doppler ultrasonography).
---
Did this answer your question?
Additional feedback? (Optional)
Thank you for your feedback!