Answer
Answer
Refinements and finishing touches are generalized terms. Specificity is needed in addressing these topics. The refinements and finishing touches for breast reconstruction with expanders and implants may be far different than those for a transverse rectus abdominis myocutaneous (TRAM) flap for immediate reconstruction or a delayed latissimus flap in an irradiated mastectomy defect.
The deep inferior epigastric artery and vein flap arguably is a refinement of the TRAM flap; likewise, using the internal mammary vessels for a free TRAM flap procedure arguably is a refinement of the traditional use of the thoracodorsal vessels. The following paragraphs discuss some techniques and planning skills for all types of breast reconstruction with the goal of achieving the best result (see the image below). Although refinements can improve small imperfections in a reconstructed breast, these should not be relied upon to correct improper planning of the initial procedure.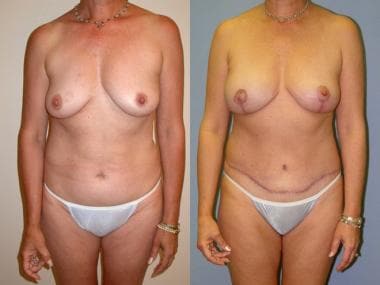 Before and after right skin-sparing mastectomy for invasive ductal carcinoma with immediate deep inferior epigastric perforator (DIEP) flap reconstruction and left mastopexy.
For information on breast reconstruction techniques, see the Breast section of Medscape Reference's Plastic Surgery journal.
---
Did this answer your question?
Additional feedback? (Optional)
Thank you for your feedback!