Answer
ERCP, demonstrated in the image below, provides the most accurate visualization of the pancreatic ductal system and has been regarded as the criterion standard for diagnosing chronic pancreatitis. One limitation of ERCP, however, is that it cannot be used to evaluate the pancreatic parenchyma, and histologically proven chronic pancreatitis has been documented in the setting of normal findings on pancreatogram.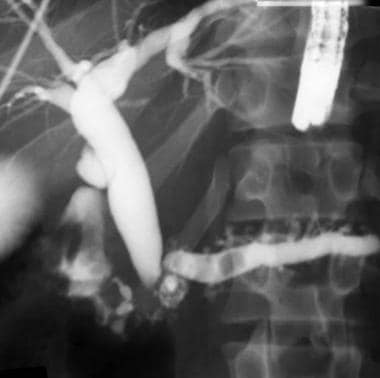 This endoscopic retrograde cholangiopancreatography (ERCP) shows advanced chronic pancreatitis. The pancreatogram has blunting of the lateral branches, dilation of the main pancreatic duct, and filling defects consistent with pancreatolithiasis. The cholangiogram also shows a stenosis of the distal bile duct and a dilated biliary tree.
---
Did this answer your question?
Additional feedback? (Optional)
Thank you for your feedback!