Answer
Pseudocysts develop in approximately 10% of patients with chronic pancreatitis. They develop as a result of ductal disruptions rather than from peripancreatic fluid accumulations that lead to pseudocyst formation in the setting of acute pancreatitis. Pseudocysts may be single or multiple and can be small or large, and they can be located either within or outside of the pancreas. Most pseudocysts communicate with the pancreatic ductal system and contain high concentrations of digestive enzymes.
The walls of pseudocysts are formed by adjacent structures, such as the stomach, transverse mesocolon, gastrocolic omentum, and pancreas. The lining of the pancreatic pseudocysts consists of fibrous and granulation tissue; the lack of an epithelial lining distinguishes pseudocysts from true cystic lesions of the pancreas. Most pseudocysts are asymptomatic. They can, however, produce a wide range of clinical problems, depending upon the location and extent of the fluid collection.
Expansion of the pseudocyst can produce abdominal pain, duodenal or biliary obstruction, vascular occlusion, or fistula formation into adjacent viscera, the pleural space, or pericardium. Spontaneous infection with abscess formation can occur. (See the images below.)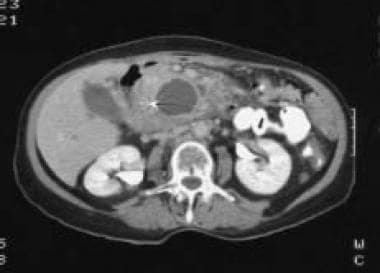 Chronic pancreatitis. Abdominal CT scan showing a pancreatic pseudocyst causing distortion of the ductal system.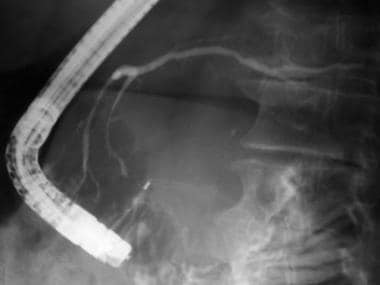 Chronic pancreatitis. Pancreatogram in a patient with a pancreatic pseudocyst. Note how the pancreatic ducts are extrinsically distorted by a mass lesion.
---
Did this answer your question?
Additional feedback? (Optional)
Thank you for your feedback!