Answer
Outbreaks of H1N1 influenza (swine flu) are common in pigs year-round. Historically, when humans have become infected, it is a result of close contact with infected pigs (but not consumption of pork). In major outbreaks, human-to-human transmission occurs.
In the 2009-2011 outbreak, the WHO raised its pandemic alert level for H1N1 influenza to phase 6, indicating that a global pandemic was identified. See the image below.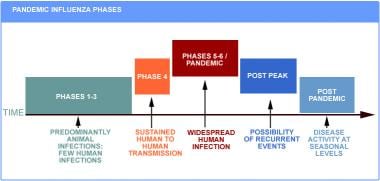 Phase 6 criteria: In addition to the criteria defined in Phase 5, the same virus has caused sustained community-level outbreaks in at least one other country in another WHO region. Courtesy of the WHO.
---
Did this answer your question?
Additional feedback? (Optional)
Thank you for your feedback!