Answer
Swine flu is a highly contagious respiratory disease in pigs caused by one of several swine influenza A viruses (see the image below). Transmission of swine influenza viruses to humans is uncommon. However, the swine influenza virus can be transmitted to humans via contact with infected pigs or environments contaminated with swine influenza viruses.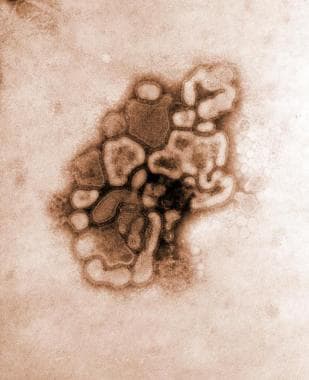 Swine influenza virus. Colorized transmission electron micrograph (37,800X) of the A/New Jersey/76 (Hsw1N1) virus under plate magnification. Image taken during the virus' first developmental passage through a chicken egg. Courtesy of the CDC/Dr. E. Palmer; R.E. Bates.
---
Did this answer your question?
Additional feedback? (Optional)
Thank you for your feedback!