Answer
Whenever possible, the CT scan should be performed with enteral and intravenous contrast. CT scans can detect small quantities of fluid, areas of inflammation, and other GI tract pathology, with sensitivities that approach 100%. (See the image below.) CT scanning can be used to evaluate for ischemia, as well as to determine bowel obstruction. An abscess is suggested by the presence of fluid density that is not bound by the bowel or other known structures. Gas within an abdominal mass or the presence of an enhancing wall and adjacent inflammatory changes are also highly suggestive of an abscess. Ischemia can be demonstrated by a clot in a large vessel or by the absence of blood flow. Gas within the intestinal wall or in the portal vein may also suggest ischemia.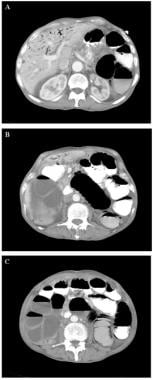 Peritonitis and abdominal sepsis. A 78-year-old man was admitted with a history of prior surgery for small bowel obstruction and worsening abdominal pain, distended abdomen, nausea, and obstipation. In figure A, a marked amount of portal venous gas within the liver, mesenteric venous gas, and pneumatosis intestinalis are consistent with ischemic small intestine. The superior mesenteric artery appears patent. The liver has a nodular contour consistent with cirrhosis. In figures B and C, markedly distended loops of small intestine containing fluid and air-fluid levels are consistent with a small bowel obstruction. No focal fluid collections are identified.
---
Did this answer your question?
Additional feedback? (Optional)
Thank you for your feedback!