Answer
Bacterial virulence factors [4] that interfere with phagocytosis and with neutrophil-mediated bacterial killing mediate the persistence of infections and abscess formation. Among these virulence factors are capsule formation, facultative anaerobic growth, adhesion capabilities, and succinic acid production. Synergy between certain bacterial and fungal organisms may also play an important role in impairing the host's defense. One such synergy may exist between Bacteroides fragilis and gram-negative bacteria, particularly E coli (see the image below) , where co-inoculation significantly increases bacterial proliferation and abscess formation.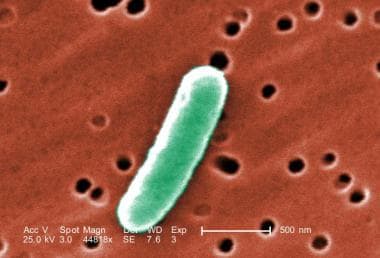 Peritonitis and abdominal sepsis. Gram-negative Escherichia coli.
---
Did this answer your question?
Additional feedback? (Optional)
Thank you for your feedback!