Answer
Peritoneal infections are classified as primary (ie, from hematogenous dissemination, usually in the setting of an immunocompromised state), secondary (ie, related to a pathologic process in a visceral organ, such as perforation or trauma, including iatrogenic trauma), or tertiary (ie, persistent or recurrent infection after adequate initial therapy). Primary peritonitis is most often spontaneous bacterial peritonitis (SBP) seen mostly inpatients with chronic liver disease. Secondary peritonitis is by far the most common form of peritonitis encountered in clinical practice. Tertiary peritonitis often develops in the absence of the original visceral organ pathology. (See Presentation.)
Infections of the peritoneum are further divided into generalized (peritonitis) and localized (intra-abdominal abscess). This article focuses on the diagnosis and management of infectious peritonitis and abdominal abscesses. An abdominal abscess is seen in the image below.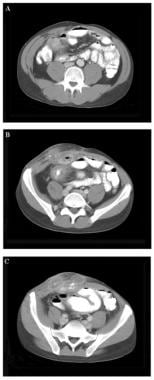 Peritonitis and abdominal sepsis. A 35-year-old man with a history of Crohn disease presented with pain and swelling in the right abdomen. In figure A, a thickened loop of terminal ileum is evident adherent to the right anterior abdominal wall. In figure B, the right anterior abdominal wall is markedly thickened and edematous, with adjacent inflamed terminal ileum. In figure C, a right lower quadrant abdominal wall abscess and enteric fistula are observed and confirmed by the presence of enteral contrast in the abdominal wall.
---
Did this answer your question?
Additional feedback? (Optional)
Thank you for your feedback!