Answer
Colonoscopy is one of the most valuable tools available to the physician for the diagnosis and treatment of inflammatory bowel disease (IBD), although its limitations must be recognized. Foremost, not all mucosal inflammation is idiopathic IBD. Infectious causes of inflammation must always be considered, as should diverticulitis and ischemia (which are far more common as new diagnoses in an elderly population than IBD, despite the similar colonoscopic and histologic appearance).
When used appropriately, colonoscopy can help determine the extent and severity of colitis, assist in guiding treatment, and provide tissue to assist in the diagnosis. In skilled hands, the colonoscope can frequently reach the terminal ileum and permit assessment of inflammation to assist in the diagnosis or exclusion of Crohn disease. Inflammation may occasionally occur in the terminal ileum in patients with ulcerative colitis; this is referred to as a backwash ileitis and is mild, is nonulcerating, and may occur when a widely patent ileocecal valve is present. (See the following images.)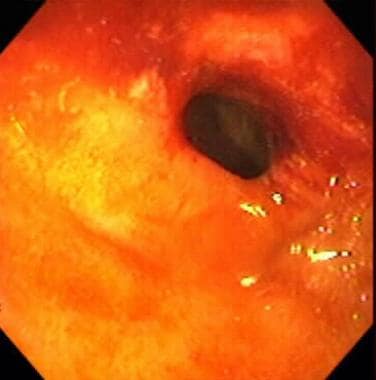 Inflammatory bowel disease. Stricture in the terminal ileum noted during colonoscopy in a patient with inflammatory bowel disease. This image depicts a narrowed segment visible upon intubation of the terminal ileum with the colonoscope. Relatively little active inflammation is present, indicating that this is a cicatrix stricture.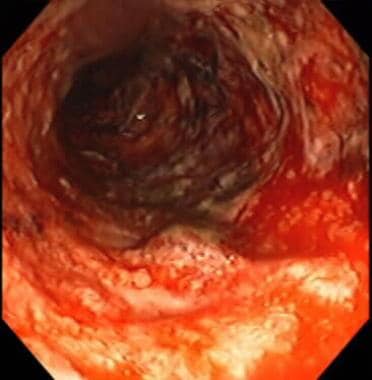 Inflammatory bowel disease. Severe colitis noted during colonoscopy in a patient with inflammatory bowel disease. The mucosa is grossly denuded, with active bleeding noted. The patient had her colon resected very shortly after this view was obtained.
---
Did this answer your question?
Additional feedback? (Optional)
Thank you for your feedback!