Answer
The small bowel series, or small bowel follow-through (see the image below), can reveal inflammation, can assist in the assessment of stricture length and severity, and can help determine the most appropriate surgical approach. Fistulas may be demonstrated on films from a small bowel series, even if they are not suggested on the basis of the clinical evaluation.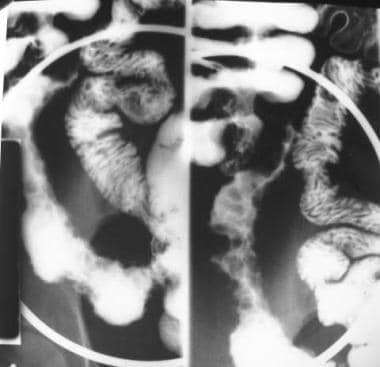 Inflammatory bowel disease. Cobblestoning in Crohn disease. Spot views of the terminal ileum from a small bowel follow-through study demonstrates linear longitudinal and transverse ulcerations that create a cobblestone appearance. Also, note the relatively greater involvement of the mesenteric side of the terminal ileum and the displacement of the involved loop away from the normal small bowel secondary to mesenteric inflammation and fibrofatty proliferation.
---
Did this answer your question?
Additional feedback? (Optional)
Thank you for your feedback!