Answer
In Crohn disease, areas of segmental narrowing with loss of normal mucosa, fistula formation, and the string sign (a narrow band of barium flowing through an inflamed or scarred area) in the terminal ileum are typically observed on radiographs (see the images below). Some patients with ulcerative colitis also demonstrate inflammatory changes in the terminal ileum (ileitis), but these findings lack the skip pattern that is characteristic of Crohn disease.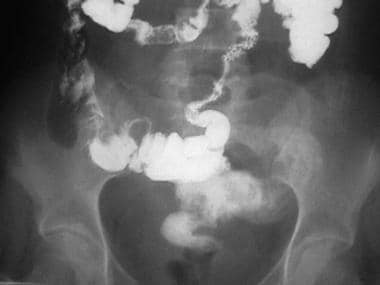 Inflammatory bowel disease. Enteroenteric fistula noted on a small bowel series of x-ray films in a patient with inflammatory bowel disease. The narrow-appearing segments filled out relatively normally on subsequent films. Note that barium is just starting to enter the cecum in the right lower quadrant (viewer's left), but the barium has also started to enter the sigmoid colon toward the bottom of the picture, thus indicating the presence of a fistula from the small bowel to the sigmoid colon.
---
Did this answer your question?
Additional feedback? (Optional)
Thank you for your feedback!