Answer
Several terms have been used to describe abnormalities found after barium studies of the colon, including the following:
A lead-pipe or stove-pipe appearance suggests chronic ulcerative colitis that has resulted in a loss of colonic haustra due to the colon becoming a rigid foreshortened tube (see the following image)

Double-contrast barium enema study shows pseudopolyposis of the descending colon in a patient with ulcerative colitis.

Rectal sparing suggests Crohn colitis in the presence of inflammatory changes in other portions of the colon (see the image below)

Double-contrast barium enema study demonstrates marked ulceration, inflammatory changes, and narrowing of the right colon in a patient with Crohn colitis.

Thumbprinting indicates mucosal inflammation (which can also be seen frequently on the abdominal flat plate) (see the following image)

Plain abdominal radiograph of a patient with known ulcerative colitis who presented with an acute exacerbation of his symptoms. This image shows thumbprinting in the region of the splenic flexure of the colon.

Skip lesions indicate areas of inflammation alternating with normal-appearing areas, again suggesting Crohn colitis
Barium can be refluxed into the terminal ileum in many cases (see the first image below), which can assist in the diagnosis of Crohn disease. The string sign (a narrow band of barium flowing through an inflamed or scarred area) in the terminal ileum is typical of one form of ileal Crohn disease observed on radiographs (see the first image below). Barium enema is contraindicated in patients with moderate to severe colitis, because it risks perforation or precipitation of a toxic megacolon (see the second image below).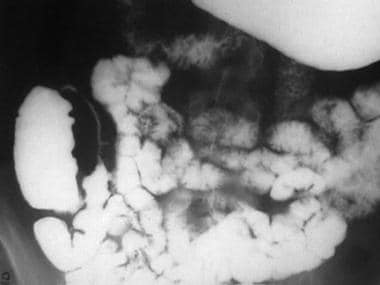 Crohn disease involving the terminal ileum. Note the "string sign" in the right lower quadrant (viewer's left).
---
Did this answer your question?
Additional feedback? (Optional)
Thank you for your feedback!