Answer
Abdominal radiography may allow for assessment of the kidneys, ureters, and bladder for nephrolithiasis and the vertebral bodies for osteopenia or osteoporosis and sacroileitis. If severe fulminant colitis is present, abdominal radiography may reveal an edematous, irregular colon with thumbprinting (see the first image below). Occasionally, pneumatosis coli (air in the colonic wall) may be present. Free air and evidence of toxic megacolon, which appears as a long continuous segment of air-filled colon greater than 6 cm in diameter, indicates a surgical emergency. (See the images below.)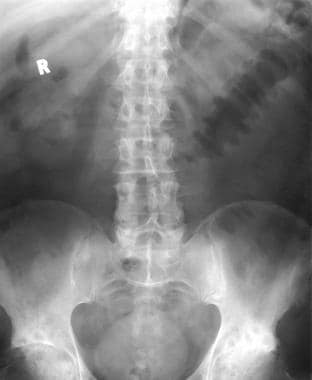 Plain abdominal radiograph of a patient with known ulcerative colitis who presented with an acute exacerbation of his symptoms. This image shows thumbprinting in the region of the splenic flexure of the colon.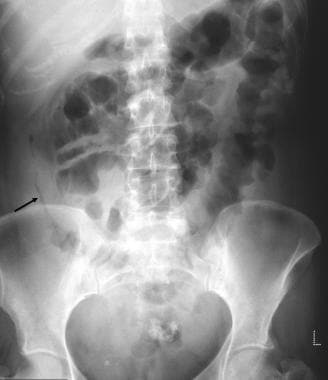 Plain abdominal radiograph in a 26-year-old with a 10-year history of ulcerative colitis shows a long stricture/spasm of the ascending colon/cecum (<i>arrow</i>). Note the pseudopolyposis in the descending colon.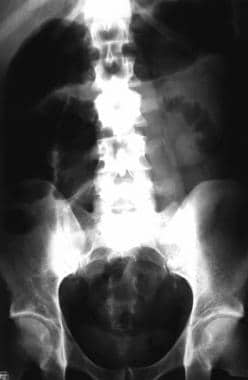 Toxic megacolon. Courtesy of Dr. Pauline Chu.
---
Did this answer your question?
Additional feedback? (Optional)
Thank you for your feedback!