Answer
Crohn disease can affect any portion of the gastrointestinal tract, from the mouth to the anus, and causes three patterns of involvement: inflammatory disease, strictures, and fistulas. This disease consists of segmental involvement by a nonspecific granulomatous inflammatory process. The most important pathologic feature of Crohn disease is that it is transmural, involving all layers of the bowel, not just the mucosa and the submucosa, which is characteristic of ulcerative colitis. Furthermore, Crohn disease is discontinuous, with skip areas interspersed between two or more involved areas.
Late in the disease, the mucosa develops a cobblestone appearance, which results from deep, longitudinal ulcerations interlaced with intervening normal mucosa (see the images below). In 35% of cases, Crohn disease occurs in the ileum and colon; in 32%, solely in the colon; in 28%, in the small bowel; and in 5%, in the gastroduodenal region. [10] Diarrhea, cramping, and abdominal pain are common symptoms of Crohn disease in all of the above locations, except for the gastroduodenal region, in which anorexia, nausea, and vomiting are more common. [10]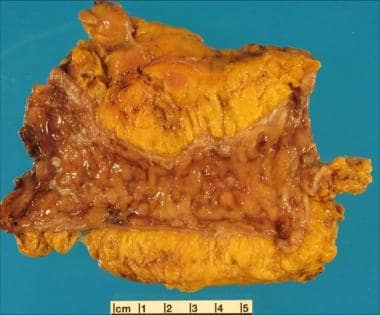 Inflammatory bowel disease. Cobblestone change of the mucosa of the terminal ileum in a patient with Crohn disease. Communicating fissures and crevices in the mucosa separate islands of more intact, edematous epithelium.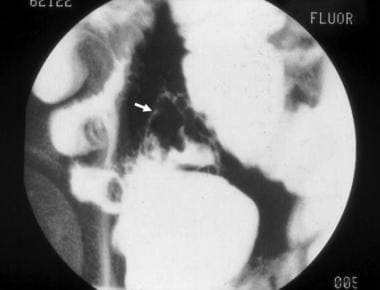 Inflammatory bowel disease. This computed tomography scan from a patient with terminal ileal Crohn disease shows an enteroenteral fistula (arrow) between loops of diseased small intestine.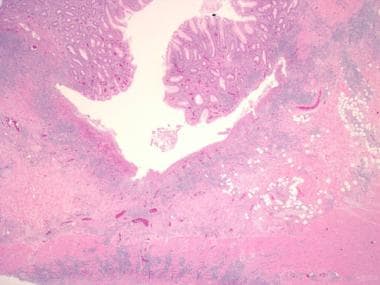 Inflammatory bowel disease. Another example of a deep, fissuring ulcer in a patient with Crohn disease. Note the increase in submucosal inflammation and scattered lymphoid aggregates.
---
Did this answer your question?
Additional feedback? (Optional)
Thank you for your feedback!