Answer
Ulcerative colitis and Crohn disease share many extraintestinal manifestations, although some of these tend to occur more commonly with either condition (see the image below). Eye-skin-mouth-joint extraintestinal manifestations (eg, oral aphthae, erythema nodosum, large-joint arthritis, and episcleritis) reflect active disease, whereas pyoderma gangrenosum, primary sclerosing cholangitis (PSC), ankylosing spondylitis, uveitis, kidney stones, and gallstones may occur in quiescent disease. [5]
Although both ulcerative colitis and Crohn disease have distinct pathologic findings, approximately 10%-15% of patients cannot be classified definitively into either type; in such patients, the disease is labeled as indeterminate colitis. Systemic symptoms are common in IBD and include fever, sweats, malaise, and arthralgias.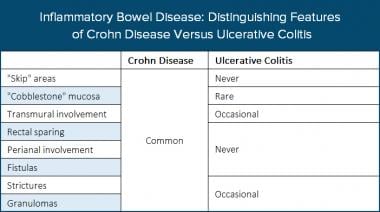 Inflammatory bowel disease. The table distinguishes features of Crohn disease (CD) and ulcerative colitis (UC).
The rectum is always involved in ulcerative colitis, and the disease primarily involves continuous lesions of the mucosa and the submucosa. Both ulcerative colitis and Crohn disease usually have waxing and waning intensity and severity. When the patient is symptomatic due to active inflammation, the disease is considered to be in an active stage (the patient is having a flare of the IBD). (See Presentation.)
---
Did this answer your question?
Additional feedback? (Optional)
Thank you for your feedback!