Answer
Inflammatory bowel disease (IBD) is an idiopathic disease caused by a dysregulated immune response to host intestinal microflora. The two major types of inflammatory bowel disease are ulcerative colitis (UC), which is limited to the colonic mucosa, and Crohn disease (CD), which can affect any segment of the gastrointestinal tract from the mouth to the anus, involves "skip lesions," and is transmural. There is a genetic predisposition for IBD, and patients with this condition are more prone to the development of malignancy. See the image below.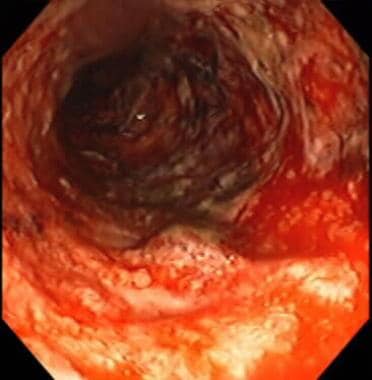 Inflammatory bowel disease. Severe colitis noted during colonoscopy in a patient with inflammatory bowel disease. The mucosa is grossly denuded, with active bleeding noted. The patient had her colon resected very shortly after this view was obtained.
---
Did this answer your question?
Additional feedback? (Optional)
Thank you for your feedback!