Answer
The addition of ribavirin to PEG-IFN heralded a new era in the treatment of chronic HCV. The benefits of combination therapy were documented in three landmark trials: Manns et al in 2001, [85] Fried et al in 2002, [86] and Hadziyannis et al in 2004. [87]
Manns et al reported a significantly higher sustained virologic response (SVR) rate in patients given higher-dose PEG-IFN alfa-2b plus ribavirin than in patients given lower-dose PEG-IFN alfa-2b plus ribavirin or those who received IFN alfa-2b plus ribavirin. [85] Adverse-effect profiles in the three treatment groups were similar. Secondary analyses identified body weight and HCV RNA viral load less than 1 million copies/mL as important predictors of SVR. (See the image below.)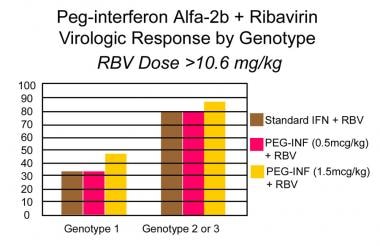 Pegylated interferon alfa-2b plus ribavirin therapy for chronic hepatitis C.
Fried at al found that patients who received PEG-IFN alfa-2a plus ribavirin had a significantly higher SVR rate than patients who received IFN alfa-2b plus ribavirin (56% vs 44%) or PEG-IFN alfa-2a alone (56% vs 29%). [86] The SVR rates for patients with HCV genotype 1 were 46%, 36%, and 21%, respectively, for the three regimens.
Hadziyannis et al reported that in patients infected with HCV genotype 1, 48 weeks of treatment was statistically superior to 24 weeks, and standard-dose ribavirin was statistically superior to low-dose ribavirin. [87] In this study, 1311 persons were randomized to PEG-IFN alfa-2a at 180 mcg/wk for 24 or 48 weeks plus a low dose (800 mg/day) or standard weight-based dose (1000 or 1200 mg/day) of ribavirin. [87] In patients with HCV genotypes 2 or 3, there were no statistically significant differences in SVR rates in the four treatment groups.
---
Did this answer your question?
Additional feedback? (Optional)
Thank you for your feedback!