Answer
Hepatitis C virus (HCV) is a spherical, enveloped, single-stranded RNA virus belonging to the family Flaviviridae, genus Flavivirus. Lauer and Walker reported that HCV is closely related to hepatitis G, dengue, and yellow fever viruses. [13] HCV can produce at least 10 trillion new viral particles each day.
The HCV genome consists of a single, open reading frame and two untranslated, highly conserved regions, 5'-UTR and 3'-UTR, at both ends of the genome. The genome has approximately 9500 base pairs and encodes a single polyprotein of 3011 amino acids that are processed into 10 structural and regulatory proteins (see the image below).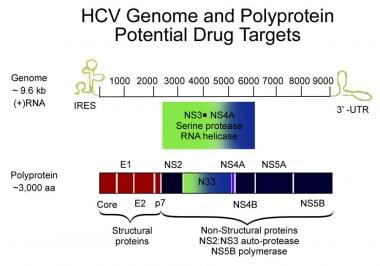 Hepatitis C viral genome. Courtesy of Hepatitis Resource Network.
The natural targets of HCV are hepatocytes and, possibly, B lymphocytes. Viral clearance is associated with the development and persistence of strong virus-specific responses by cytotoxic T lymphocytes and helper T cells.
In most infected people, viremia persists and is accompanied by variable degrees of hepatic inflammation and fibrosis. Findings from studies suggest that at least 50% of hepatocytes may be infected with HCV in patients with chronic hepatitis C.
---
Did this answer your question?
Additional feedback? (Optional)
Thank you for your feedback!