Answer
Because most patients infected with HCV have chronic liver disease, which can progress to cirrhosis and HCC, chronic infection with HCV is one of the most important causes of chronic liver disease (see the image below) and, according to a report by Davis et al, the most common indication for orthotopic liver transplantation (OLT) in the United States. [10]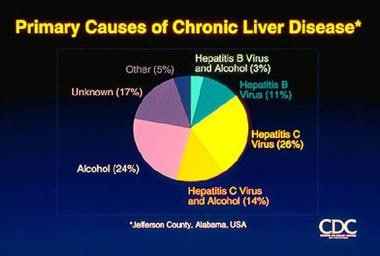 Hepatitis C. Causes of chronic liver disease. Courtesy of the US Centers for Disease Control and Prevention.
---
Did this answer your question?
Additional feedback? (Optional)
Thank you for your feedback!