Answer
The hallmark of chronic hepatitis B infection is lymphoid inflammation, mostly involving the portal tracts. However, occasional Councilman bodies are seen in the lobule. Hepatocytes that are distended with viral particles may acquire an unusual "ground-glass" appearance on the hematoxylin and eosin (H&E) stain (see the following image). Ground-glass cells are seen in approximately 50-75% of livers affected by chronic HBV infection, and they stain positive for hepatitis surface B antigen (HBsAg). Immunohistochemical staining of the specimen can help to identify the presence of HBsAg or hepatitis B core antigen (HBcAg) (ie, chronic infection).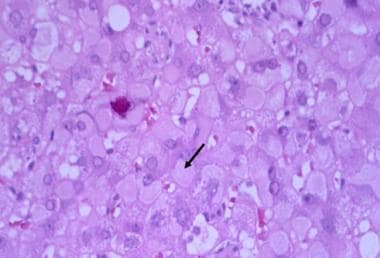 Hepatitis B. Under higher-power magnification, ground-glass cells may be visible in chronic hepatitis B virus (HBV) infection. Ground-glass cells are present in 50% to 75% of livers with chronic HBV infection. Immunohistochemical staining is positive for hepatitis B surface antigen (HBsAg.)
As the severity of the histologic changes advance, interface hepatitis (piecemeal necrosis) appears, with erosion of the limiting plate by chronic inflammation from the portal side of the lobule. Over time, this ongoing type of inflammation may lead to increasing degrees of fibrosis that spreads out from that portal tract to connect with other nearby portal tracts (bridging fibrosis). When the fibrosis advances further in severity, regenerating nodules of hepatocytes appear; this constitutes cirrhosis (see the image below).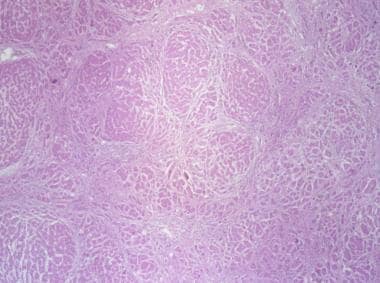 Hepatitis B. Liver biopsy with hematoxylin stain showing stage 4 fibrosis (ie, cirrhosis) in a patient with hepatitis B.
---
Did this answer your question?
Additional feedback? (Optional)
Thank you for your feedback!