Answer
The 5 stages that have been identified in the viral life cycle of hepatitis B infection are briefly discussed below. Different factors have been postulated to influence the development of these stages, including age, sex, immunosuppression, and coinfection with other viruses.
Stage 1: Immune tolerance
This stage, which lasts approximately 2-4 weeks in healthy adults, represents the incubation period. For newborns, the duration of this period is often decades. Active viral replication is known to continue despite little or no elevation in the aminotransferase levels and no symptoms of illness.
Stage 2: Immune active/immune clearance
In the immune active stage, also known as the immune clearance stage, an inflammatory reaction with a cytopathic effect occurs. HBeAg can be identified in the sera, and a decline in the levels of HBV DNA is seen in some patients who are clearing the infection. The duration of this stage for patients with acute infection is approximately 3-4 weeks (symptomatic period). For patients with chronic infection, 10 years or more may elapse before cirrhosis develops, immune clearance takes place, HCC develops, or the chronic HBeAg-negative variant emerges.
Stage 3: Inactive chronic infection
In the third stage, the inactive chronic infection stage, the host can target the infected hepatocytes and HBV. Viral replication is low or no longer measurable in the serum, and anti-HBe can be detected. Aminotransferase levels are within the reference range. It is most likely at this stage that an integration of the viral genome into the host's hepatocyte genome takes place. HBsAg still is present in the serum.
Stage 4: Chronic disease
The emergence of chronic HBeAg-negative disease can occur from the inactive chronic infection stage (stage 3) or directly from the immune active/clearance stage (stage 2).
Stage5: Recovery
In the fifth stage, the virus cannot be detected in the blood by DNA or HBsAg assays, and antibodies to various viral antigens have been produced. The image below depicts the serologic course of HBV infection.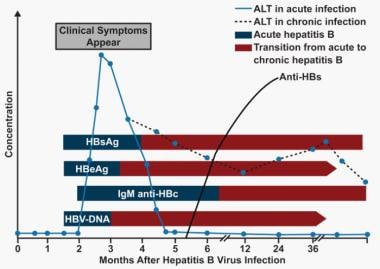 Hepatitis B. Serologic course of hepatitis B virus (HBV) infection. The flat bars show the duration of seropositivity in self-limited acute HBV infection. The pointed bars show that HBV DNA and e antigen (HBeAg) can become undetectable during chronic infection. Only immunoglobulin G (IgG) antibodies to the HBV core antigen (anti-HBc) are predictably detectable after resolution of acute hepatitis or during chronic infection. Antibody to hepatitis B surface antigen (anti-HBs) is generally detectable after resolution of acute HBV infection but may disappear with time. It is only rarely found in patients with chronic infection and does not indicate that immunologic recovery will occur or that the patient has a better prognosis. ALT = alanine transaminase. (Adapted from Liaw YF, Chu CM. Hepatitis B virus infection. Lancet. 2009;373(9663):582-92.)
---
Did this answer your question?
Additional feedback? (Optional)
Thank you for your feedback!