Answer
Hepatitis B virus (HBV) is a hepadnavirus (see the following image), with the virion consisting of a 42-nm spherical, double-shelled particle composed of small spheres and rods and with an average width of 22 nm. [10, 11, 12, 13, 14] It is an exceedingly resistant virus, capable of withstanding extreme temperatures and humidity. HBV can survive when stored for 15 years at –20°C, for 24 months at –80°C, for 6 months at room temperature, and for 7 days at 44°C. Indeed, the approximately 400-year-old mummified remains of a child found on a mountain top in Korea had HBV in the liver that could be sequenced, and a viral genotype C was identified. [15]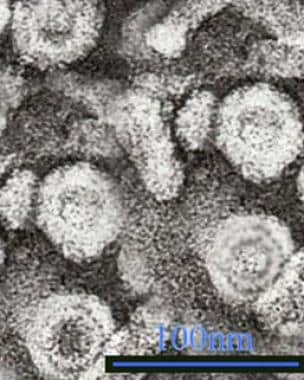 Hepatitis B. Hepatitis B virus (HBV) is a hepadnavirus, highly resistant to extremes of temperature and humidity, that invades the hepatocytes. The viral genome is a partially double-stranded, circular DNA linked to a DNA polymerase that is surrounded by an icosahedral nucleocapsid and then by a lipid envelope. Embedded within these layers are numerous antigens that are important in disease identification and progression. Within the nucleocapsid are the hepatitis B core antigen (HBcAg) and precore hepatitis B e antigen (HBeAg), and on the envelope is the hepatitis B surface antigen (HBsAg). Transmission electron micrograph (TEM) from Graham Colm and Wikipedia, licensed under the Creative Commons Attribution 3.0 Unported license.
---
Did this answer your question?
Additional feedback? (Optional)
Thank you for your feedback!