Answer
Since the 1970s, considerable progress has also been made regarding the knowledge of the epidemiology, virology, natural history, and treatment of the hepatitis B virion, a hepatotropic virus particle (see the image below). In addition, ongoing vaccination programs have been successful in many countries in decreasing the prevalence of HBV disease (eg, Taiwan). [4] (See Etiology, Epidemiology, Workup,Treatment, and Medication.)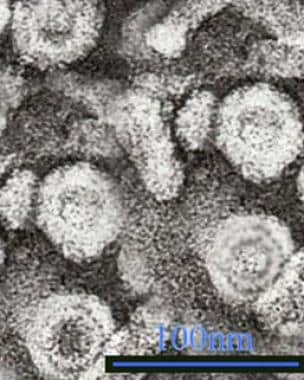 Hepatitis B. Hepatitis B virus (HBV) is a hepadnavirus, highly resistant to extremes of temperature and humidity, that invades the hepatocytes. The viral genome is a partially double-stranded, circular DNA linked to a DNA polymerase that is surrounded by an icosahedral nucleocapsid and then by a lipid envelope. Embedded within these layers are numerous antigens that are important in disease identification and progression. Within the nucleocapsid are the hepatitis B core antigen (HBcAg) and precore hepatitis B e antigen (HBeAg), and on the envelope is the hepatitis B surface antigen (HBsAg). Transmission electron micrograph (TEM) from Graham Colm and Wikipedia, licensed under the Creative Commons Attribution 3.0 Unported license.
---
Did this answer your question?
Additional feedback? (Optional)
Thank you for your feedback!