Answer
Ultrasonography is the most commonly used initial diagnostic tool. It is widely available and inexpensive. Hepatic hemangiomas usually are echogenic, but their sonographic appearance is variable and nonspecific. See the images below.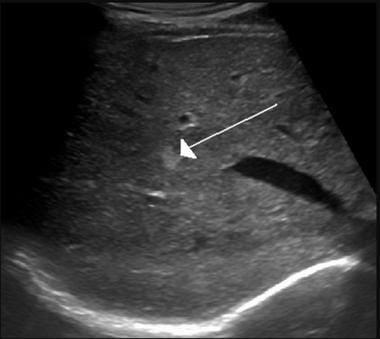 Hemangioma of the liver as seen on ultrasound. Courtesy of Wikimedia Commons/James Heilman, MD (https://commons.wikimedia.org/wiki/File:Hemangiomaliver.PNG).

Hepatic hemangioma. (a): Transverse sonogram of left lobe of liver presenting a typical hyperechogenic hemangioma. (b) and (c): Two different hypoechogenic liver lesions suspected to be atypical hemangioma, subsequently confirmed by computed tomography scanning. Courtesy of BMC Gastroenterology (https://bmcgastroenterol.biomedcentral.com/articles/10.1186/1471-230X-11-43).
The addition of color Doppler to routine ultrasonography provides qualitative and quantitative data and increases the sensitivity and specificity of the test. Serial ultrasonographic examinations can be used to monitor any increase in the size of the hemangioma over time.
The use of microbubble-enhanced ultrasonography has been studied. Lesions show peripheral puddles and pools of enhancement that expand in a centripetal pattern (progressing inward toward the center) during the portal venous phase of enhancement. [25] With delayed imaging, the lesion may completely "fill in." [26] However, complete enhancement might not occur in large lesions where central thrombosis or scarring may be present.
In one study, the addition of a contrast agent to routine ultrasonography improved the sensitivity from 78% to 100% and specificity from 23% to 92%. [27] Unfortunately, contrast-enhanced ultrasonography is available at relatively few medical centers. [28]
In general, the finding on ultrasonography of a suspected hemangioma should be diagnostically integrated with computed tomography (CT) scanning or magnetic resonance imaging (MRI) to ensure a correct diagnosis.
---
Did this answer your question?
Additional feedback? (Optional)
Thank you for your feedback!