Answer
Today, both transthoracic and transabdominal fundoplications are performed, including partial (anterior or posterior) and circumferential wraps. The most commonly performed operation today in both children and adults is the Nissen fundoplication, which is a 360° transabdominal fundoplication (see the image below). [37, 38] First reported in 1991, laparoscopic fundoplication is well studied in adult populations. Laparoscopic fundoplication has also quickly gained acceptance for use in children. [39, 40, 41, 42, 43, 44] However, in one study in which 119 children underwent fundoplication for severe GERD, 7.6% required a redo fundoplication and 53.8% needed to restart their antireflux medications within 6 months of surgery. [45]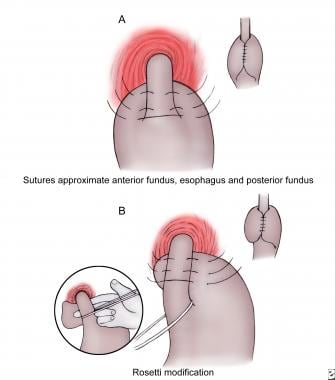 Nissen fundoplication.
---
Did this answer your question?
Additional feedback? (Optional)
Thank you for your feedback!