Answer
H pylori–associated gastritis can display different levels of severity. H pylori organisms are found within the gastric mucous layer and frequently accumulate in groups at the apical side of gastric surface cells, occasionally in the lower portions of the gastric foveolae, and rarely within the deeper areas of the mucosa in association with glandular cells (see the images below).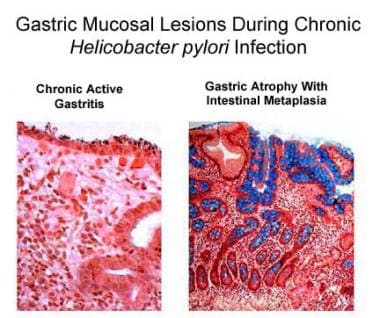 Helicobacter pylori–caused chronic active gastritis. Genta stain (×20). Multiple organisms (brown) are visibly adherent to gastric surface epithelial cells.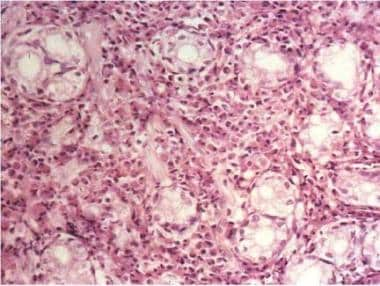 Chronic gastritis associated with Helicobacter pylori infection. Numerous plasma cells are present in the lamina propria.
Patients with typical infections initially develop chronic active gastritis in which H pylori is observed in both the antrum and the corpus (usually in greater numbers in the antrum). Polymorphonuclear leukocytes (PMNs) infiltrate the lamina propria, glands, surface epithelium, and foveolar epithelium, occasionally spilling into the lumen and forming small microabscesses. Lymphoid aggregates and occasional well-developed lymphoid follicles are observed expanding the lamina propria of the mucosa, and occasional lymphocytes permeate the epithelium.
In a disease of longer duration, significant loss of gastric glands is observed, a condition known as gastric atrophy. Gastric atrophy may result from the loss of gastric epithelial cells that were not replaced by appropriate cell proliferation, or it may result from replacement of the epithelium with intestinal-type epithelium (intestinal metaplasia).
In advanced stages of atrophy associated with chronic H pylori infection, both the corpus and the antrum display an extensive replacement by intestinal metaplasia that is associated with the development of hypochlorhydria. With expansion of intestinal metaplasia, the number of H pylori organisms that are detected in the stomach decreases because H pylori is excluded from areas of metaplastic epithelium.
The histologic changes of autoimmune atrophic gastritis vary in different phases of the disease. During an early phase, multifocal diffuse infiltration of the lamina propria by mononuclear cells and eosinophils and focal T-cell infiltration of oxyntic glands with glandular destruction are seen. Focal mucous neck cell hyperplasia (pseudopyloric metaplasia) and hypertrophic changes of parietal cells are also observed.
During the florid phase of the disease, increased lymphocytic inflammation, oxyntic gland atrophy, and focal intestinal metaplasia occur. The end stage is characterized by diffuse involvement of the gastric corpus and fundus by chronic atrophic gastritis associated with little intestinal metaplasia. The antrum is spared.
Granulomatous gastritis predominantly affects the gastric antrum. In early stages, the only findings may be isolated granulomas in the mucosa and submucosa. In later stages of the disease, inflammation extends to the muscularis propria, and fibrosis may be prominent. Granulomas associated with tuberculosis are typically caseating. Poorly formed granulomas can also be observed in syphilitic involvement of the stomach in the tertiary stage of the disease.
---
Did this answer your question?
Additional feedback? (Optional)
Thank you for your feedback!