Answer
Magnetic resonance imaging (MRI) with magnetic resonance cholangiopancreatography (MRCP) has emerged as an excellent imaging study for the noninvasive identification of gallstones anywhere in the biliary tract, including the common bile duct (see the image below). Because of its cost and the need for sophisticated equipment and software, it is usually reserved for cases in which choledocholithiasis is suspected. The 2010 ACR guidelines recommend MRI as a secondary imaging study if ultrasound images do not result in a clear diagnosis of acute cholecystitis or gallstones. [15]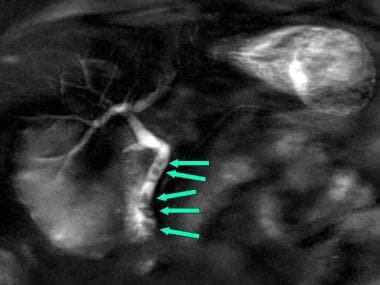 Magnetic resonance cholangiopancreatography (MRCP) showing 5 gallstones in the common bile duct (arrows). In this image, bile in the duct appears white; stones appear as dark-filling defects. Similar images can be obtained by taking plain radiographs after injection of radiocontrast material in the common bile duct, either endoscopically (endoscopic retrograde cholangiography) or percutaneously under fluoroscopic guidance (percutaneous transhepatic cholangiography), but these approaches are more invasive.
See Imaging of Cholelithiasis for complete information on this topic.
---
Did this answer your question?
Additional feedback? (Optional)
Thank you for your feedback!