Answer
Ultrasonography is very useful for diagnosing uncomplicated acute cholecystitis. The sonographic features of acute cholecystitis include gallbladder wall thickening (>5 mm), pericholecystic fluid, gallbladder distention (>5 cm), and a sonographic Murphy sign. The presence of multiple criteria increases its diagnostic accuracy.
Gallstones appear as echogenic foci in the gallbladder. They move freely with positional changes and cast an acoustic shadow. (See the image below.)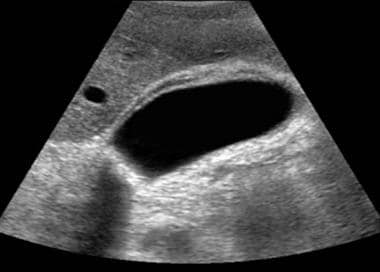 Cholecystitis with small stones in the gallbladder neck. Classic acoustic shadowing is seen beneath the gallstones. The gallbladder wall is greater than 4 mm. Image courtesy of DT Schwartz.
Ultrasonography is also helpful in cases of suspected acute cholecystitis to exclude hepatic abscesses and other liver parenchymal processes.
When the gallbladder is completely filled with gallstones, the stones may not be visible on ultrasound. However, closely spaced double echogenic lines (one from the gallbladder wall and one from the stones) with acoustic shadowing may be evident. (See the images below.)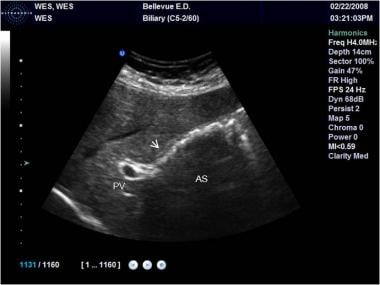 The WES (wall echogenic shadow) sign, long axis of the gallbladder. The arrow head points to the gallbladder wall. The second hyperechoic line represents the edge of the congregated gallstones. Acoustic shadowing (AS) is readily seen. The common bile duct can be seen just above the portal vein (PV). Image courtesy of Stephen Menlove.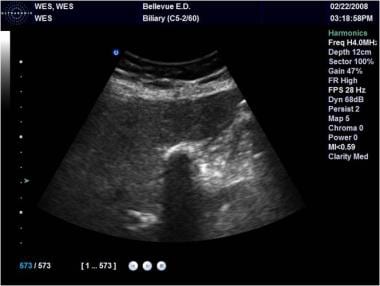 Wall echogenic shadow (WES sign), short axis view of the gallbladder. Image courtesy of Stephen Menlove.
---
Did this answer your question?
Additional feedback? (Optional)
Thank you for your feedback!