Answer
Cholelithiasis involves the presence of gallstones (see the image below), which are concretions that form in the biliary tract, usually in the gallbladder. Choledocholithiasis refers to the presence of one or more gallstones in the common bile duct (CBD). Treatment of gallstones depends on the stage of disease.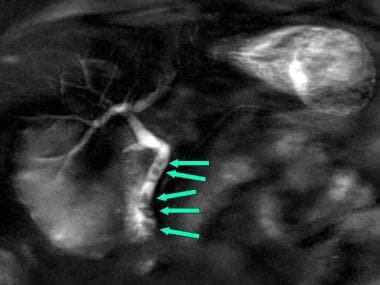 Magnetic resonance cholangiopancreatography (MRCP) showing 5 gallstones in the common bile duct (arrows). In this image, bile in the duct appears white; stones appear as dark-filling defects. Similar images can be obtained by taking plain radiographs after injection of radiocontrast material in the common bile duct, either endoscopically (endoscopic retrograde cholangiography) or percutaneously under fluoroscopic guidance (percutaneous transhepatic cholangiography), but these approaches are more invasive.
---
Did this answer your question?
Additional feedback? (Optional)
Thank you for your feedback!