Answer
Answer
The majority of thin-cap fibroatheromas (TCFAs) (vulnerable plaques), acute ruptures, and healed ruptures are concentrated in the proximal portion of the three major coronary arteries and another 50% arise in the mid-portion of these arteries (see the image below). These lesions are few in the distal coronary circulation. By far, the most frequent location is the proximal portion of the left anterior descending coronary artery; sites in the proximal left circumflex and mid to proximal right coronary arteries are about one half as common.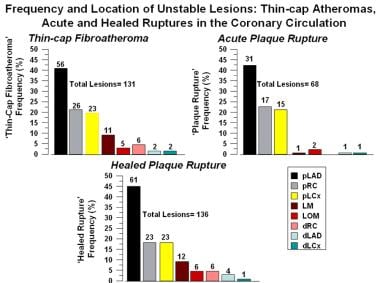 Vulnerable plaque pathology. Frequency and location of unstable lesions, such as the thin-cap atheromas and acute and healed plaque ruptures in the coronary circulation (Kolodgie et al. Curr Opin Card. 2001;16:285, with permission). dLAD = distal left anterior descending; dLCx = distal left circumflex artery; dRC = distal right coronary; LM = left main artery; LOM = left obtuse marginal artery; pLAD = proximal left anterior descending coronary artery; pLCx = proximal left circumflex artery; pRC = proximal right coronary artery.
The extent of luminal narrowing varies with lesion morphology. Fibroatheromas have the least luminal narrowing, whereas lesions with acute plaque rupture, hemorrhage, or healed repair sites show the most stenosis. The vast majority of TCFAs (>80%) have less than 75% cross-sectional area luminal narrowing (equivalent to < 50% diameter stenosis).
During plaque development, outward remodeling of the artery occurs, essentially negating the flow-limiting potential when plaques occupy less than 40% cross-sectional area luminal narrowing. TCFAs are associated with positive remodeling and therefore may show minimal luminal narrowing by angiography.
---
Did this answer your question?
Additional feedback? (Optional)
Thank you for your feedback!