Answer
The image below depicts a normal manometric tracing. This depiction uses the older system of pressure tracings (conventional manometric recording) without high-resolution esophageal pressure topography.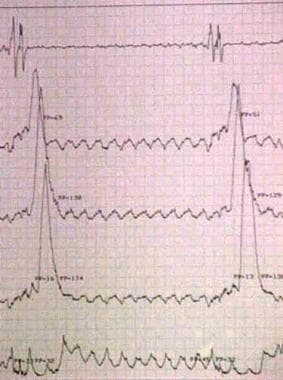 This is normal esophageal manometry tracing with normal amplitude of the contractions. The contractions are coordinated because the contractions in the proximal esophagus (top of image) occur before the contractions further distal in the esophagus.
The image below depicts an example of diffuse esophageal spasm.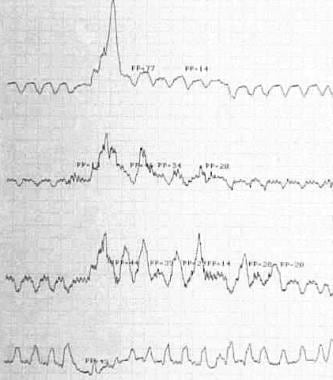 Esophageal manometry tracing demonstrates diffuse esophageal spasm. Note the multiple uncoordinated contractions in the third tracing from the distal esophagus.
Manometry in patients with nutcracker esophagus demonstrates contractions that progress in an orderly manner, but the amplitude of the contraction is excessive. Amplitude greater than 2 standard deviations above the normal value is considered diagnostic for nutcracker esophagus (see the image below).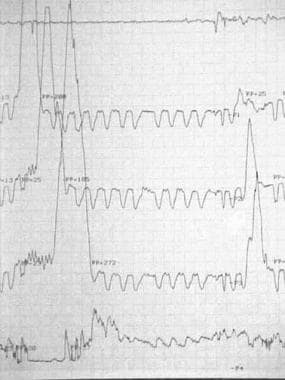 Esophageal manometry tracing demonstrates nutcracker esophagus. Note the excessive amplitude of the contractions.
A disassociation may exist between symptoms and the manometric findings.
Esophageal electrical impedance recordings show abnormal transit in diffuse esophageal spasm.
---
Did this answer your question?
Additional feedback? (Optional)
Thank you for your feedback!