Answer
Two relatively recent advances have revolutionized the performance of clinical esophageal manometry: practical high-resolution manometric (HRM) systems and the development of sophisticated algorithms to display the expanded manometric dataset as esophageal pressure topographic plots. [12, 13]
Two strengths of esophageal pressure topographic plots compared with conventional manometric recordings are the ability to delineate the spatial limits, vigor, and integrity of individual contractile segments along the esophagus and to distinguish between loci of the compartmentalized intraesophageal pressurization and rapidly propagated contractions. [12] See the image below.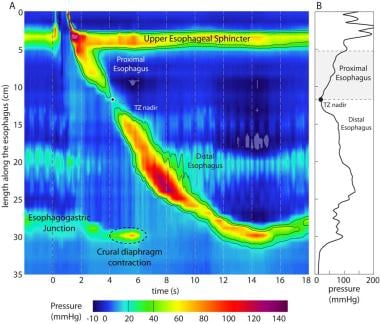 High-resolution manometric display of a normal esophageal swallow using esophageal pressure topography. Image courtesy of Wikimedia Commons.
---
Did this answer your question?
Additional feedback? (Optional)
Thank you for your feedback!