Answer
Broadly, esophageal spasm can be divided into two major variants that are distinct entities: (1) diffuse esophageal spasm and (2) hypertensive peristalsis.
Diffuse esophageal spasm is characterized by contractions that are of normal amplitude but are uncoordinated, simultaneous, or rapidly propagated (see image below).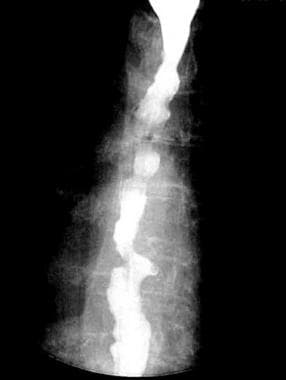 Barium swallow demonstrates diffuse uncoordinated contractions of the esophagus in a patient with diffuse esophageal spasm.
Hypertensive peristalsis, also known as nutcracker esophagus, is diagnosed when contractions proceed in a coordinated manner but the amplitude is excessive. Hypercontractile esophagus, also known as jackhammer esophagus, is an extreme phenotype of hypertensive contractions in which contractions are of very high amplitude, involving the majority of the esophagus, and whose duration occurs for a prolonged period with a jackhammer-type appearance on high-resolution manometry.
---
Did this answer your question?
Additional feedback? (Optional)
Thank you for your feedback!