Answer
On double-contrast esophagograms, herpes esophagitis usually manifests as multiple small, superficial ulcers in the upper or middle esophagus on an otherwise normal background mucosa (see the image below).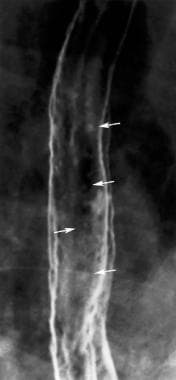 Infectious esophagitis. Herpes esophagitis. Double-contrast esophagram shows small, discrete ulcers (arrows) in the mid esophagus on a normal background mucosa. Note the radiolucent mounds of edema surrounding the ulcers. In the appropriate clinical setting, this appearance is highly suggestive of herpes esophagitis, since ulceration in candidiasis almost always occurs on a background of diffuse plaque formation.
The ulcers can have a punctate, linear, stellate, or volcanolike appearance, often with a thin halo of edema at the margins. The ulcers may be clustered together or widely separated with normal intervening mucosa. Severe herpes esophagitis may produce extensive ulceration and plaque formation, mimicking the appearance of Candida esophagitis.
---
Did this answer your question?
Additional feedback? (Optional)
Thank you for your feedback!