Answer
The most common cause of esophagitis is gastroesophageal reflux disease (GERD). Other important, but less common, types of esophagitis include infectious esophagitis (in patients who are immunocompromised), radiation esophagitis, and esophagitis from direct erosive effects of ingested medication or corrosive agents (eg, strong alkalis in liquid and granular forms [3] ) (see the image below). (See Pathophysiology.)
See Pediatric Esophagitis for complete information on this topic.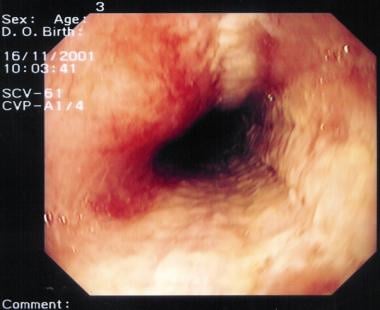 Corrosive esophagitis. This is a vinegar-induced esophageal burn. The patient had a fish bone in her throat. She ingested vinegar in an attempt to dissolve the fish bone but to no avail; this led to corrosive esophagitis.
Eosinophilic esophagitis has also emerged as an important cause of esophagitis in both children and adults. [4, 5] Other causes of esophagitis include systemic disease and trauma. (See Etiology.)
The prognosis is good with rapid diagnosis and proper treatment. Ultimately, the prognosis depends on the underlying disease process. (See Prognosis.)
The history findings vary based on the type of esophagitis (eg, reflux or infectious). The physical examination usually is not helpful in confirming the diagnosis of uncomplicated esophagitis. However, the examination may reveal other potential sources of chest or abdominal pain. (See Presentation.)
Laboratory tests are usually unhelpful unless complications are present (eg, upper gastrointestinal [GI] hemorrhage). Routine radiography is not indicated unless complications (eg, perforation, obstruction, bleeding) are suspected. Double-contrast esophageal barium studies and upper endoscopy are the recommended initial diagnostic studies; these tests should be viewed as complementary rather than competing in the evaluation of patients with dysphagia. (See Workup.)
Treatment begins with hemodynamic stabilization and pain management. Subsequent therapy depends on the cause of the esophagitis and on any complications present. [6] Surgery (fundoplication) is sometimes indicated in patients with severe pain who fail to respond to medical management. (See Treatment and Medication.)
---
Did this answer your question?
Additional feedback? (Optional)
Thank you for your feedback!