Answer
Answer
When the immediate spin phase is positive for agglutination or hemolysis, further testing is required. The donor unit is deemed incompatible for transfusion, and the antibody responsible for the reaction should be identified. The next phase of testing consists of the antiglobulin crossmatch, which may be performed via column agglutination, solid-phase systems, or tube. The antiglobulin crossmatch is the major component of a full serologic crossmatch.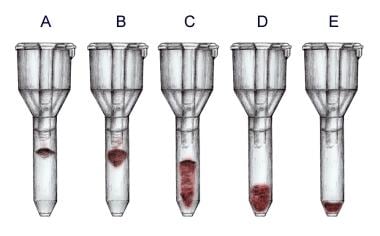 Gel testing. Agglutination is graded on a scale from 0 to 4+. A: 4+ reaction = red blood cell agglutinates (RBCAs) remain at the top of the gel. B: 3+ reaction = RBCAs remain in the top half of the column. C: 2+ reaction = RBCAs are scattered throughout the column. D: 1+ reaction = RBCAs are primarily in the lower half of column. E: 0 = no agglutination and red blood cells pass all the way to the bottom.
In an antiglobulin crossmatch performed using the column agglutination system, the donor RBCs, suspended in a hypotonic buffered saline solution, are mixed with the recipient's serum or plasma to allow antigen-antibody interaction in the upper chamber of the microtube. The antibody in the recipient's serum or plasma is detected when the sensitized donor RBCs react with the anti–immunoglobulin G (IgG) in the microtube during centrifugation. Agglutination or hemolysis constitutes incompatibility between the donor RBC unit and the recipient's serum. As shown in the image above (gel testing), the migration of donor RBCs through the tube is graded between 0 (representing no agglutination) to 4+ (the maximum amount of agglutination).
Before performing tube testing, it is advantageous to wash and resuspend donor RBCs in 2%-5% saline to remove small fibrin clots and some cold agglutinins. The ratio of patient plasma or serum to donor RBCs is also important, as too many donor RBCs could result in a false-negative result if there are not enough antibodies binding to the RBCs to cause a reaction.
---
Did this answer your question?
Additional feedback? (Optional)
Thank you for your feedback!