Answer
After the patient is placed under general endotracheal anesthesia and a urinary catheter is introduced, the abdomen is prepared and draped widely. A 12-mm incision is made in the umbilicus, through which a 12-mm cannula is introduced for future insertion of the endoscopic stapling device. Two 5-mm incisions are made, one in the left mid abdomen and the other in the left suprapubic region; through these, grasping forceps are inserted for retraction.
The final port (if necessary) is initially 5 or 10 mm in length and is placed in the right lower abdomen in a location similar to an open appendectomy incision. This incision is subsequently enlarged to approximately 2 cm, and the specimen is extracted from the abdominal cavity through this incision (see the image below). In addition, the 2 ends of the intestine to be anastomosed are exteriorized through this incision, and a 2-layer extracorporeal anastomosis is created.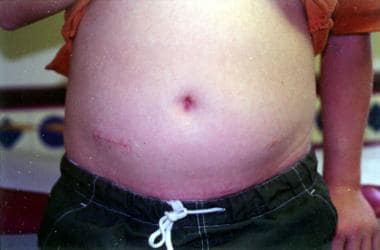 This postoperative photograph depicts incisions used for laparoscopic ileocolectomy in a 14-year-old male adolescent with obstruction of terminal ileum. Note 2-cm incision in right lower abdomen, through which the specimen was extracted and extracorporeal anastomosis performed. 12-mm umbilical incision is nicely hidden in the depths of the umbilicus. 5-mm incision is visible in left lower abdomen, and another is in left suprapubic region just above the top of the pants.
The first step in the operation is ligation and division of the proximal ileum with the endoscopic stapler. Next, with either an UltraCision Harmonic Scalpel (Ethicon Endosurgery, Cincinnati, OH) or a LigaSure device (Valley Lab, Boulder, CO), the mesentery of the proximal right colon is coagulated and transected (see the image below). Then, the right lower abdominal incision is enlarged to 2 cm and the specimen is exteriorized.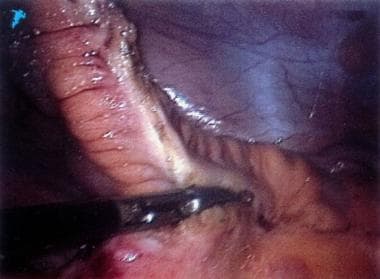 On this laparoscopic photograph, the mesentery of the terminal ileum is being coagulated with a sealing device (LigaSure; Valley Lab, Boulder, Colo). Note that the ligation of the mesentery proceeds near the border of the ileum rather than at the base of the mesentery.
Alternatively, the umbilical incision may be enlarged to allow exteriorization of the specimen. With this technique, the distal margin of resection is more precisely determined, and the distal resection margin can be divided with the surgical stapler. This procedure may also be performed intracorporeally with an endoscopic stapler.
Once the resected specimen is removed, the proximal small intestine is delivered through the right lower abdominal incision (or the enlarged umbilical incision), and a 2-layer extracorporeal anastomosis is created between the proximal and distal margins. The bowel is then returned to the abdominal cavity, and all incisions are closed.
---
Did this answer your question?
Additional feedback? (Optional)
Thank you for your feedback!