Answer
Magnetic resonance imaging (MRI) has been shown to yield a higher sensitivity and specificity than ileocolonoscopy (the criterion standard) both for diagnosing Crohn disease and for determining its severity. [73, 74] It is especially useful for evaluating pelvic and perianal disease when one is investigating for evidence of perianal fistulae and abscesses (see the image below). Typical changes depicting active disease include thickening of the bowel wall, high T2 signal of the walls with hyperenhancement and stratification, and hyperemic vasa recta. [65]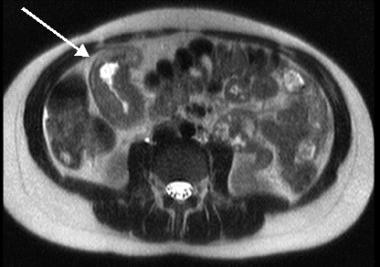 MRI demonstrates inflamed terminal ileum in 10-year-old girl with Crohn disease.
In a prospective study comparing the use of MRI to the standard Crohn Disease Endoscopic Index of Severity (CDEIS), MRI was validated as a modality that accurately assesses intestinal wall thickness, the presence and degree of edema, and ulcers in patients with Crohn disease. [75] This study confirmed that through relative contrast enhancement (RCE), MRI plays an essential role in predicting disease activity and severity in Crohn disease. [75]
---
Did this answer your question?
Additional feedback? (Optional)
Thank you for your feedback!