Answer
Neutrophil infiltration into the crypts forms crypt abscesses, leading to destruction of the crypt and atrophy of the colon. Chronic damage may be seen in the form of villous blunting in the small intestine as well. Ulcerations are common and are often seen on a background of normal mucosa.
Although granuloma formation is pathognomonic of Crohn disease, its absence does not exclude the diagnosis. [11]
Macroscopically, the initial abnormality consists of hyperemia and edema of the involved mucosa. Later, discrete superficial ulcers form over lymphoid aggregates and are seen as red spots or mucosal depressions (see the image below). These can become deep, serpiginous ulcers located transversely and longitudinally over an inflamed mucosa, giving the mucosa a cobblestone appearance. The lesions are often segmental, being separated by healthy areas, and are referred to as skip lesions. [11]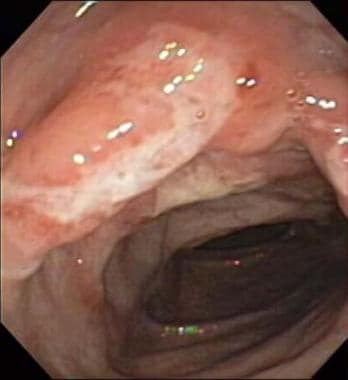 Colonoscopic image of a large ulcer and inflammation of the descending colon in a 12-year-old boy with Crohn disease.
---
Did this answer your question?
Additional feedback? (Optional)
Thank you for your feedback!