Answer
Chronic inflammation from T-cell activation leading to tissue injury is implicated in the pathogenesis of Crohn disease.
After activation by antigen presentation, unrestrained responses of type 1 T helper (Th1) cells predominate in Crohn disease as a consequence of defective regulation. Th1 cytokines such as interleukin (IL)-12 and TNF-α stimulate the inflammatory response. Inflammatory cells recruited by these cytokines release nonspecific inflammatory substances, including arachidonic acid metabolites, proteases, platelet activating factor, and free radicals, which result in direct injury to the intestine.
In a study from 2012, investigators suggested that genetic predispositions for inflammatory bowel disease (IBD) lead to abnormal epithelial barrier integrity and homeostasis, deficits in autophagy, deficiencies in innate pattern recognition receptors, and problems with lymphocyte differentiation, especially in Crohn disease. [10]
Microscopically, the initial lesion starts as a focal inflammatory infiltrate around the crypts, followed by ulceration of superficial mucosa. Later, inflammatory cells invade the deep mucosal layers and, in that process, begin to organize into noncaseating granulomas (see the image below). The granulomas extend through all layers of the intestinal wall and into the mesentery and the regional lymph nodes.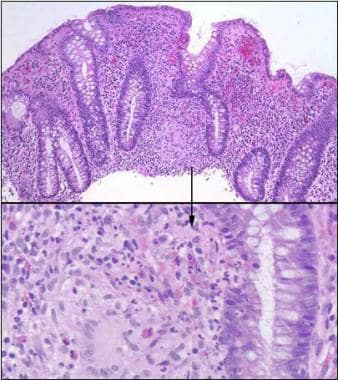 Colonic granuloma in patient with Crohn disease. Hematoxylin-eosin staining. Image courtesy of Dr E. Ruchelli.
---
Did this answer your question?
Additional feedback? (Optional)
Thank you for your feedback!