Answer
Ascites is demonstrated well on CT scan images. Small amounts of ascitic fluid localize in the right perihepatic space, the posterior subhepatic space, and the Douglas pouch (rectouterine pouch). See the image below.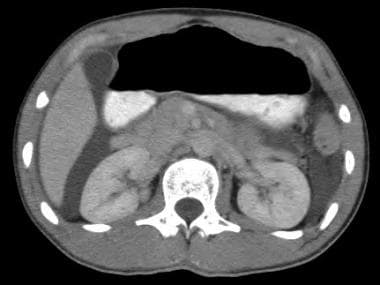 This computed tomography scan demonstrates free intraperitoneal fluid due to urinary ascites.
A number of CT scan features suggest neoplasia. Hepatic, adrenal, splenic, or lymph node lesions associated with masses arising from the gut, ovary, or pancreas are suggestive of malignant ascites. Patients with malignant ascites tend to have proportional fluid collections in the greater and lesser sacs; whereas, in patients with benign ascites, the fluid is observed primarily in the greater sac and not in the lesser omental bursae.
---
Did this answer your question?
Additional feedback? (Optional)
Thank you for your feedback!