Answer
Answer
Breast cancer incidence rates increase sharply with age, becoming substantial before age 50 years. During the premenopausal years, the rate of increase in incidence is common around the world, approximately 8%-9% per year. [5, 6] The rate of increase in breast cancer incidence continues throughout life but slows substantially after menopause, to approximately 2%-3% per year. [6] Reproductive hormones account for this dependence of incidence on menopausal status. (See below).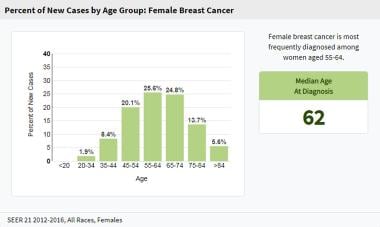 Breast cancer epidemiology and risk factors. Percentage of new US cases of female breast cancer by age group (2012-2016) from the National Cancer Institute (NCI), Surveillance, Epidemiology, and End Results Program (SEER).
---
Did this answer your question?
Additional feedback? (Optional)
Thank you for your feedback!