Answer
Sepsis has been referred to as a process of malignant intravascular inflammation. Normally, a potent, complex, immunologic cascade ensures a prompt protective response to microorganism invasion in humans. A deficient immunologic defense may allow infection to become established; however, an excessive or poorly regulated response may harm the host through maladaptive release of indigenously generated inflammatory compounds (see the image below).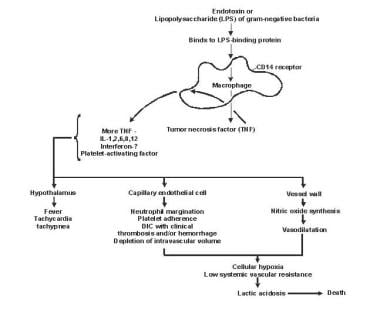 Pathogenesis of sepsis and multiorgan failure.
Lipid A and other bacterial products release cytokines and other immune modulators that mediate the clinical manifestations of sepsis. Interleukins, tumor necrosis factor (TNF)-α, interferon gamma (IFN-γ), and other colony-stimulating factors are produced rapidly within minutes or hours after interactions of monocytes and macrophages with lipid A.
Inflammatory mediator release becomes a self-stimulating process, and release of other such mediators, including interleukin (IL)-1, platelet activating factor, IL-2, IL-6, IL-8, IL-10, and nitric oxide (NO), further increases cytokine levels. This leads to continued activation of polymorphonuclear leukocytes (PMNs), macrophages, and lymphocytes; proinflammatory mediators recruit more of these cells. All of these processes create a state of destructive immunologic dissonance.
---
Did this answer your question?
Additional feedback? (Optional)
Thank you for your feedback!